We have recently made exciting new enhancements to our Project Portals and Contacts systems, as well as squashing some bugs.
You asked, we listened! You now have the ability to copy a link to your project portals and share these with your clients or collaborators. Access this by clicking 'share' in your project and then 'Create shareable link'.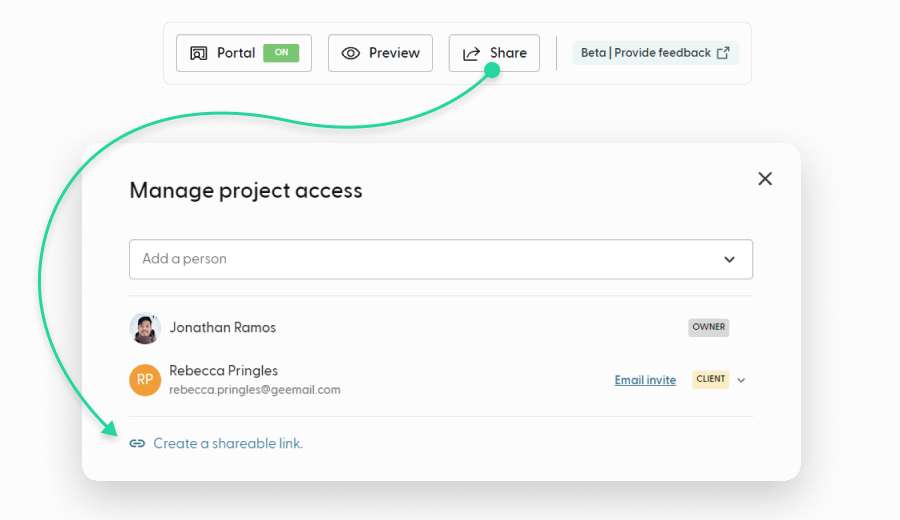 It's all in the contact details
Contact detail pages

have been updated to match the latest layout and information display improvements that have been made to Projects. Here, you can get a complete overview of all projects and documents shared with a specific client.

Contact cards

have been added to display information when hovering over a contact in the app. The Contact cards give quick access to view the contact's detail page, copy their email address, send a message, or start a project.
Other improvements and fixes
We have successfully fixed a bug in the 'Recent Documents' widgets, ensuring that the correct documents will be displayed.
We've added safety dialogues in a few places to confirm actions that can't be undone. You'll now see one in Proposals to confirm content block deletion and one in Contracts before entering free-edit mode.
The reCaptcha button on embeddable Indy forms was repositioned so it doesn't interfere with form submissions.
We have now resolved an issue that was preventing invoices from being marked as unpaid.